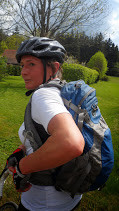 Irena Špringlová , owner at CK TRIP
http://www.ck-trip.cz
Bilateral Meetings
24.10.2014 Friday (09:20 am - 09:40 am)
24.10.2014 Friday (09:40 am - 10:00 am)
24.10.2014 Friday (10:00 am - 10:20 am)
24.10.2014 Friday (10:20 am - 10:40 am)
24.10.2014 Friday (11:00 am - 11:20 am)
24.10.2014 Friday (11:20 am - 11:40 am)
24.10.2014 Friday (11:40 am - 12:00 pm)
24.10.2014 Friday (12:00 pm - 12:20 pm)
24.10.2014 Friday (15:20 pm - 15:40 pm)
24.10.2014 Friday (15:40 pm - 16:00 pm)
24.10.2014 Friday (16:00 pm - 16:20 pm)
24.10.2014 Friday (16:20 pm - 16:40 pm)
24.10.2014 Friday (16:40 pm - 17:00 pm)
24.10.2014 Friday (17:00 pm - 17:20 pm)
24.10.2014 Friday (17:20 pm - 17:40 pm)
We aere specialised on active holidays - cycling, hiking, inline skating, skiing.
We organise groupe trips -- mostly abaout 40 PAX with their own bikes, our bus and trailor and our guide.
We also offer accomodation for individuals.
There are two reason of our partitipation on SPA CE: finding new itineraries and accomodation for our cycling groups - nice country, 40-80 km/day and relaxation in SPA.
The second reason: wellness weekends and weeks for individuals on request.
Country: Czech Republic
Organization Type: travel organiser, tour operator
Phone: 00420 483 312 276
Email: irena@ck-trip.cz
City: Jablonec nad Nisou 466 01,Prazska 17 Google map
Areas of Activities